Rajinikanth's Daughter Aishwaryaa Dhanush's Bharatanatyam Performance At UN Criticized
Acclaimed dancer Anita Ratnam criticised Aishwaryaa's performance and wrote: "This is what bharatanatyam becomes... A caricature and a farce! (sic)"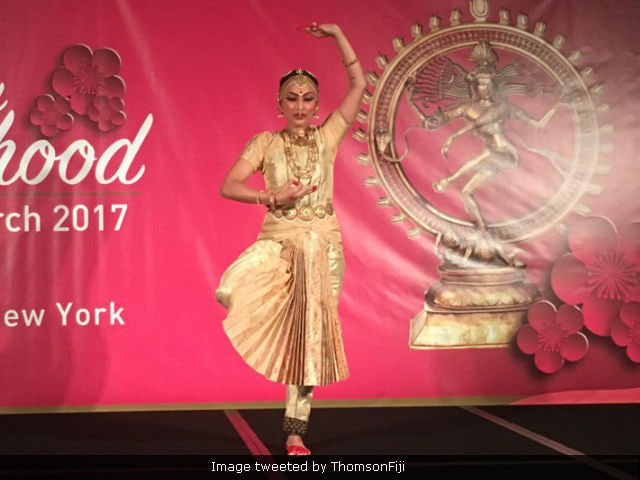 Aishwaryaa R Dhanush at the UN headquarters in New York. (Image courtesy: @ThomsonFiji)
Superstar Rajinikanth's daughter Aishwaryaa R Dhanush performed at the United Nations headquarters in New York on International Women's Day, but her performance hasn't been appreciated by the Internet and also, acclaimed dancer Anita Ratnam. Ms Ratnam, who is trained in Bharatanatyam, Kathakali and Mohiniattam, shared a snippet of Aishwaryaa's performance of Facebook and wrote: "This is what bharatanatyam becomes... A caricature and a farce! (sic)" Soon the snippet of Aishwaryaa's dance recital went viral and internet and there many who have criticised Aishwaryaa's performance. Aishwaryaa, who is trained in Bharatanatyam, is also the UN Goodwill Ambassador for Women to promote gender equality in India.
In a separate post Anita Ratnam said that a report "allegedly misrepresented the Aishwaryaa Dhanush UN dance fiasco as choreographed or attributed" to her. She clarified: "I am neither a friend or an acquaintance of the person and have nothing to do with her appearance at the UN on women's day on March 8. I posted and commented on her abysmal performance and the video has since gone viral with numerous comments and shares on Facebook and Twitter." Before her performance, Aishwaryaa said that Meenakshi Chittaranjan is her guru, who oversaw the performance as part of the audience.
Writer Parthiban Shanmugam also shared the video on Facebook saying: "The pathetic state of Bharatanatyam at the United Nations... Aishwayaa's guru should be banned!" Many users agreed with Mr Shanmugam and commented on his post. "Omg is this dance.if her guru really sees that probly she will commit suicide.honestly what form of dance is this (sic)," said one user. "Saddening that sucha beautiful art of our country has been show cased in UN in such a pathetic manner (sic)," wrote another user.
Watch Aishwaryaa R Dhanush's performance at the UN Headquarters: